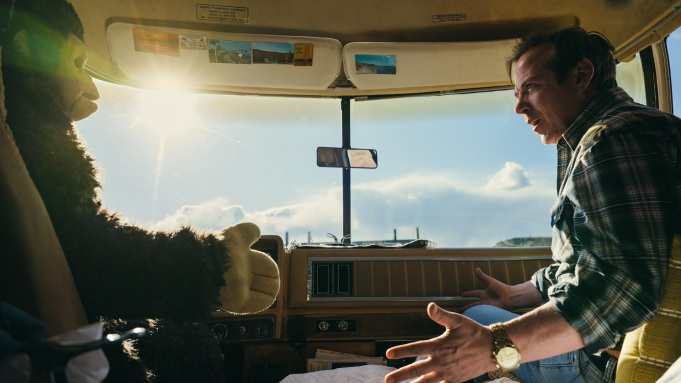 17 May

British Performer Nina Conti Wraps Production On Directorial Debut 'Sunlight,' First Look Revealed

EXCLUSIVE: British comedian and writer Nina Conti has wrapped production on Sunlight, a comedy road movie set in Albuquerque, New Mexico, that marks her debut as a feature director. Check out the first-look image above.

Conti directs from a screenplay by Shenoah Allen. Conti and Allen both star in the pic, with Christopher Guest serving as an Executive Producer. Metro International is handling international sales and plans to launch the pic on the festival circuit in early 2024.

Billed as a "hilariously dark and unconventional love story," the pic follows two people on the edge of life who find purpose and romance through an unlikely connection, escaping the darkness in search of some sunlight.

Full synopsis reads: Disappearing into a monkey costume and creating a new persona, Jane strives to break free from a toxic relationship when she encounters a suicidal radio show host, Roy, who presents a path to freedom. After hitting the open road in Roy's Airstream, the unlikely duo soon hatch a plan that could help finance a new life but could also land them in jail. Hot on their heels is Jane's controlling partner, Wade, who aims to put an end to Jane's newfound freedom.

Producers are Conti, Sam Parker for Anyway Content, Will Machin for Metro International, and Keagan Karnes for Inspirado, with Tabitha McDonald co-producing.

Conti is a director, writer, actress, and ventriloquist. She began her career at the Royal Shakespeare Company before becoming a ventriloquist. She has won a British Comedy Award and was BAFTA nominated for her 2012 documentary Her Master's Voice.

Shenoah is best known for his comedy double act Pajama Men, for which he won a Barry Award, one of Australia's top comedy prizes. In 2022, Shenoah and Conti took their show Comedy Sassafras to the Edinburgh Festival Fringe.

"It was a five-year journey to this point and it's no less than a dream come true to see it come to life. I'm excited to share the film with audiences in 2024," Conti said.

Conti is represented by Lucy Fairney at PBJ Management.