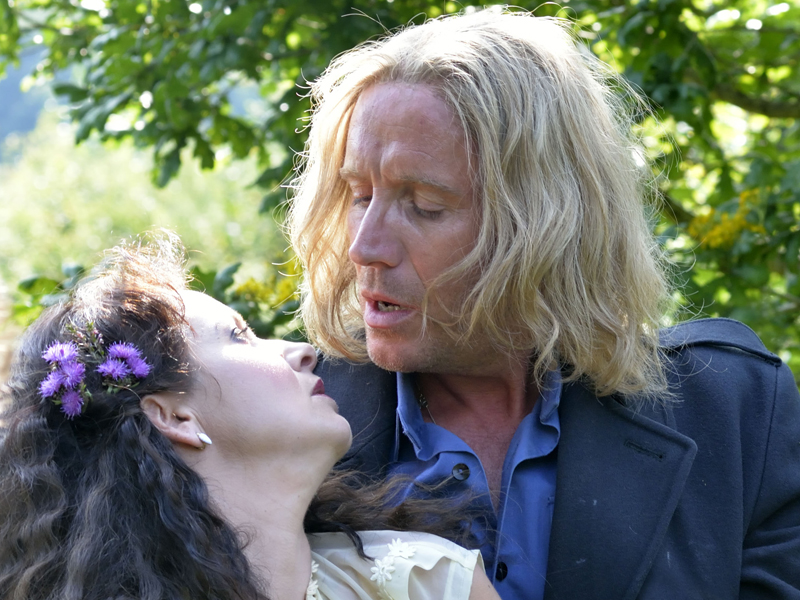 Under Milk Wood review – Rhys Ifans in a highly coloured fever dream
Dylan Thomas' celebrated radio play has been energetically adapted to the big screen with Charlotte Church among the gallery of fun performances
The spirit of Richard Burton looms large over any rendering of Under Milk Wood: the actor's sonorous vowels, on display in what has hitherto been considered the definitive cinematic version from 1972, somehow seem to perfectly embody Dylan Thomas' effusive, garrulous poetry. It would be enough to put anyone off even having a go, but Rhys Ifans has stepped bravely up to the plate for this hyperactive, highly coloured adaptation directed by Kevin Allen.
Under Milk Wood, famously, originated as a radio play that Thomas wrote for the BBC, and was first broadcast in 1954 after the poet's death. With its discursive verse style, it's a resolutely uncinematic text, for all its evocative qualities: the addition of actual images, you would suppose, would be superfluous. Allen's version has stuck largely to illustration: Ifans speaks melodically over the top, with intricately structured scenes and tableaux doing the visual heavy lifting.
As with the 70s version, directed by Andrew Sinclair, room has to be found for Thomas' multitude of comedy characters – Organ Morgan, Dai Bread, Willy Nilly, and all the rest – though fortunately the new film avoids anything as idiotic as Elizabeth Taylor's participation in the earlier film, playing passed-away good-time girl Rosie Probert. The nearest Allen gets to that is the celebrity casting of Charlotte Church as the alive-and-well good-time-girl Polly Garter; but Church is in fact pretty good in the role, a wholesome apple-cheeked type who gets up to all sorts in the woods.
Allen's film comes across as a kind of fast-moving fever-dream – appropriately enough, given the swelling tide of fantasy that Thomas instils in the drama: everyone, and everything, is operating through a sweaty film of lust or delusion. Allen also amps up what you might call the bawdiness quotient: from the orgasmic yelps in the background of the opening dream sequence, to the continual incidents of jiggling and writhing, there's an entertaining Carry-On-ish edge to things that forestalls any hint of pomposity. With its energy and attack this is an Under Milk Wood that is funny and entertaining, and never gets bogged down.