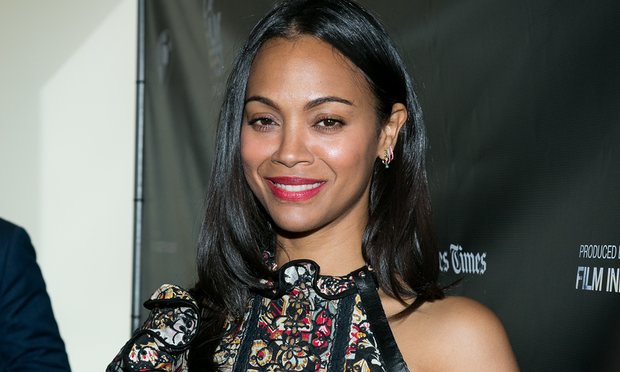 20 Jun

Zoe Saldana on Nina Simone backlash: 'There is no one way to be black'

The actor has responded to critics who claim that she performed in 'blackface' for her role in biopic of the legendary singer.

Zoe Saldana has responded to criticism over her performance in the Nina Simone biopic, saying there is "no one way to be black".

The casting of the Guardians of the Galaxy actor in musical drama Nina led to anger from some who believed she had performed in "blackface", including the singer's daughter who said "appearance-wise this is not the best choice".

"There's no one way to be black," Saldana told Allure. "I'm black the way I know how to be. You have no idea who I am. I am black. I'm raising black men. Don't you ever think you can look at me and address me with such disdain."

Critics claimed the actor was not only too light-skinned to take on the role but also too attractive, a point Saldana is keen to address.

"I never saw her as unattractive," she said. "Nina looks like half my family! But if you think the [prosthetic] nose I wore was unattractive then maybe you need to ask yourself, 'What do you consider beautiful? Do you consider a thinner nose beautiful, so the wider you get, the more insulted you become?'"

The film, which also stars David Oyelowo, has met with largely negative reviews, holding a 3% rating on Rotten Tomatoes. Saldana still believes that it's an important moment for Hollywood.

"The script probably would still be lying around, going from office to office, agency to agency, and nobody would have done it," she said. "Female stories aren't relevant enough, especially a black female story. I made a choice. Do I continue passing on the script and hope that the 'right' black person will do it, or do I say, 'You know what? Whatever consequences this may bring about, my casting is nothing in comparison to the fact that this story must be told.'"

While most of the discussion surrounding the film may have been negative, Saldana sees it as a victory. "The fact that we're talking about her, that Nina Simone is trending?" she said. "We fucking won. For so many years, nobody knew who the fuck she was. She is essential to our American history. As a woman first, and only then as everything else … Let it be the first movie. If you think you can do it better, then by all means. Let ours be version number one of 10 stories in the next 10 years about the fucking iconic person that was Nina Simone."

Saldana will be seen in this summer's Star Trek Beyond and also has roles in Ben Affleck's crime drama Live by Night and Marvel sequel Guardians of the Galaxy.